The Importance of Uninsured/Underinsured (UM/UIM) Motorist Coverage
On March 9, 2018, Mr. W. was a restrained driver of his 2013 Audi S5 traveling north on Federal Highway SE, approaching the intersection with Osprey Street SE, in Hobe Sound. Mr. W. had a green light signal to proceed north through the intersection and continue on Federal Highway SE.
As Mr. W. approached the intersection, the tortfeasor-driver, was traveling south on Federal Highway SE, made a left turn, violated Mr. W's right-of-way, and forcibly struck the front of Mr. W's vehicle, which deployed four (4) airbags. The crash totaled Mr. W.'s vehicle – seen below:
Mr. W. immediately went to Martin Memorial Hospital where he was treated for lumbar (low back) pain, chest pain, and a ruptured ligament(s) in his left hand. He followed-up with an orthopedic hand specialist, and is underwent ligament repair surgery on his left hand on March 27, 2018. Inserted are photographs of Mr. W., post-surgery.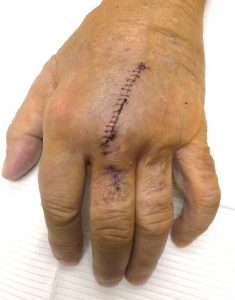 The tortfeasor's Bodily Injury ("BI") automobile insurance carrier, Progressive American Insurance Company, paid its insured's nominal, liability insurance limits as the other driver was negligent and at fault for causing this severe crash.
Thankfully, Mr. W. was informed enough – before this crash – to purchase Uninsured/Underinsured Motorist (UM/UIM) automobile insurance coverage for this loss. (The tortfeasor's BI limits were not high enough to pay for Mr. W.'s medical treatment, his hand surgery, his future medical care, and his intangible damages such as pain and suffering and loss of capacity to enjoy life.) Now, Attorneys Jason Guari and Keith Hedrick will pursue Mr. W.'s UM/UIM claim to ensure that Mr. W. be "made whole" for his damages that were caused by the negligent driver.
It is very important to purchase Uninsured/Underinsured Motorist (UM/UIM) automobile insurance coverage. We urge you to buy as much UM/UIM insurance coverage as you can afford!
2